NEW FOR THE HOLIDAYS!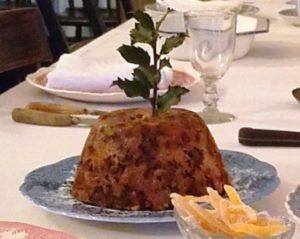 Baking for the Victorian Christmas Table:
A recipe collection for contemporary cooks
A downloadable 21-page PDF booklet based on five years of hands-on workshops, with a dozen modern interpretations of 18th- and 19th-century recipes for traditional holiday treats that would have been prepared in Canada during the Victorian period, including Mincemeat Tarts, Plum Pudding, Gingerbread and Twelfth Cake.
Price: $8 CAD (no HST applies)
You may use the link below to pay with PayPal, credit card or Visa debit.
Canadian Cookbooks Online
On Canadian Cookbooks Online we will gradually post the cookbooks that tell us about the foods Canadians cooked, ate and shared in the past. We welcome suggestions.
Individuals and groups are invited to participate by contributing scanned books or pamphlets to the project. These should be Canadian cookbooks that are in the public domain and not available elsewhere online. (Normally, in order for a publication to be in the public domain, the author must have been deceased for at least 50 years.) To ask about contributing a publication, please contact info@culinaryhistorians.ca.
Please Note: Ingredients, methods and cooking times listed in the cookbooks digitized on this website are consistent with the kitchen appliances and techniques that were in use in the period of publication of the various books. Current equipment and supplies may produce different results that are inconsistent with contemporary food safety theories. The Culinary Historians of Canada disclaim any liability in connection with the use of this information, especially for preserving.
Pre-1825
See additional resources below for links to early cookbooks published outside Canada.
1825-1876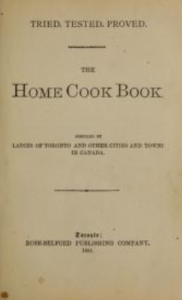 1877-1899
Directions diverses données par la Rev. Mère Caron, sup. gén. des Soeurs de la Providence pour aider ses soeurs à former de bonnes cuisinières. (Montréal, 1878, Driver Q15.1). Available via Canadiana Online.
The Home Cook Book by the Ladies of Toronto and Chief Cities and Towns in Canada (Toronto, 1881 [first published 1877], Driver O20.12). Available via Thomas Fisher Rare Book Library (University of Toronto).
Cookery by Amy G. Richards (Montreal, 1895, Driver Q28.1). Available via Canadiana Online.
The New Galt Cook Book (rev. ed.) by Margaret Taylor & Frances McNaught (Toronto, 1898, Driver O58.2). Available via Library and Archives Canada.
B.Y.P.U. Cookbook by the Ladies of the Parry Sound Baptist Church (Parry Sound, 1899, Driver O89.1). Available via Canadiana Online.
1900-1919
Pamphlets
Helps to Overcome the High Cost of Living. Zam-Buk Co. and C.E. Fulford Ltd. (Toronto, 1916, Driver O361.1). (Zam-Buk was a patent medicine.) Digitized by Jane Black, from the estate of her grandmother, Isobelle Margaret Hope (Black) nee Webster, who died on her 91st birthday, October 5, 2008.
How to Save Sugar, New sugar-saving recipes for the Wartime Housekeeper. Home Services Department, Canada Starch Company (Montreal & Toronto, ca 1917). Digitized by Jane Black, from the estate of her grandmother, Isobelle Margaret Hope (Black) nee Webster, who died on her 91st birthday, October 5, 2008.
1920-1929
Pamphlets
Good Things to Eat Made With Cow Brand Baking Soda (Montreal, 1924). Digitized by Jane Black, from the estate of her grandmother, Isobelle Margaret Hope (Black) nee Webster, who died on her 91st birthday, October 5, 2008.
The Art of Sandwich Making: A collection of famous – and fashionable sandwiches. Canada Bread Co. (ca. 1926, Driver O576.1). Digitization sponsored in honour of Kathleen Mackintosh, Toronto.
Winke für den Haushalt für Sparsame Hausfrauen (Household Tips for Economical Housewives). E.W. Gillett Co. Ltd (Toronto, Winnipeg & Montreal, ca. 1926, no Driver number). A trilingual publication in German, Polish and Ukrainian. Digitized by Joyce Sirski-Howell.
1930-1938
Pamphlets
1939-1949
United Farmers of Canada Cookbook. United Farmers of Canada, Saskatchewan Section Limited. (Saskatoon, 1940, Driver S82.1). Available via Culinary Historians of Canada.
Wartime Canada: A one-stop shop for numerous WWII recipe sources, including:

The Victory Cook Book. Navy League Chapter IODE (Victoria, 1941, Driver B109.1)
Economy Recipes for Canada's Housoldiers. Home Service Department, The Canada Starch Company, (Toronto, 1943, Driver Q284.1)
The Maritime Cookbook; How to Eat Well Though Rationed by Josephine Gibson (Toronto, 1943, Driver O1074.1)
Ration Recipes. Robin Hood Flour Mills Limited.
One Hundred-Portion War Time Recipes.
Also:
Suggestions for Further Reading
Periodicals
Canadian Living (1975-  )
Chatelaine (1928-  )
"Cooking Chat" columns by Mrs. William Wallace (née Thompson) writing as "Marie Holmes" in the Toronto Daily Star (1934-1947)
"Three Meals a Day" columns by Jessie Read in the Evening Telegram (1930s)
Columns by Margo Oliver in Weekend (1959-1982), a newspaper supplement that merged with The Canadian in 1979 to become, briefly, Today.
1930s
Three Meals a Day Cookbook by Jessie Read (1938)
1940s
Cooking…with an Accent by Helen Gougeon (1946)
Kate Aitken's Canadian Cook Book (1945)
1950s
Secrets et recettes du cahier de ma grand'mère by Jehane Benoît (1959)
1960s
L'encylopédie de la cuisine canadienne / The Encyclopedia of Canadian Cuisine by Jehane Benoît (1963)
Second Helpings Please! by Norene Gilletz & Harriet Nussbaum (1968)
Food That Really Schmecks by Edna Staebler (1969)
The Graham Kerr Cookbook, by the Galloping Gourmet (1969)
The Laura Secord Canadian Cook Book by Laura Secord Candy Shops (1966)
Pierre and Janet Berton's Canadian Food Guide (1966, revised 1974)
1970s
The Canadiana Cookbook: A Complete Heritage of Canadian Cooking by Jehane Benoît (1975)
The Christmas Cookbook: Great Canadian Recipes by Rose Murray (1979)
Classic Canadian Cooking by Elizabeth Baird (1974)
Cooking with Mona by Mona Brun (1977)
Ginger Tea Makes Friends by James Barber (1971)
Madame Benoît's Microwave Cook Book by Jehane Benoît (1975)
More Food That Really Schmecks by Edna Staebler (1979)
Out of Old Nova Scotia Kitchens by Marie Nightingale (1970)
1980s
Across the Table, An Indulgent Look at Food in Canada by Cynthia Berney Wine (1985)
Canadian Family Cooking, Best of Regional Recipes by Norman Kolpas (1986)
The Canadian Living Cookbook by Carol Ferguson and the food writers of Canadian Living Magazine (1987)
The Canadian Living Microwave Cookbook, by Margaret Fraser and the food writers of Canadian Living Magazine (1988)
The Canadian Living Rush Hour Cookbook by Margaret Fraser and the food writers of Canadian Living Magazine (1989)
Coast to Coast, A Province by Province Guide to Easily Prepared Canadian Gourmet Meals by Sheila Shepherd (1984)
From the Kitchens of the World: A Canadian Feast by Val Clery & Jack Jensen (1981)
The Great Canadian Cookbook: A Celebration Of Canadian Traditions and Cooking by Bunny Barss (1987)
James Barber's Immodest but Honest Good Eating Cookbook (1986)
Lucy Waverman's Seasonal Canadian Cookbook (1989)
Rose Murray's Vegetable Cookbook (1983)
Wok with Yan Television Cookbook by Stephen Yan (1988)
1990s
The BamBoo Cooks! Recipes from the Legendary Nightclub by Richard O'Brien and Patty Habib (1997)
Byron's New Home Cooking by Byron Ayanoglu (1993)
The Canadian Living Entertaining Cookbook by Carol Ferguson and the food writers of Canadian Living magazine (1990)
A Century of Canadian Home Cooking by Carol Ferguson & Marg Fraser (1992)
The Dave Nichols Cookbook (1993)
Marie Nightingale's Favourite Recipes (1993)
The New Canadian Basics Cookbook by Carol Ferguson (1999)
The Ontario Harvest Cookbook, An Exploration of Feasts and Flavours by Julia Aitken and Anita Stewart (1996)
The President's Choice Barbeque Cookbook, 150 Great Tastes of Summer (1995)
Rose Murray's New Casseroles and Other One-Dish Meals (1996)
A Taste of Quebec by Julian Armstrong (1990, revised 2001)
The Urban Peasant: Recipes from the Popular Television Cooking Series by James Barber (1994)